Peanut Butter Powder: The Ultimate Guide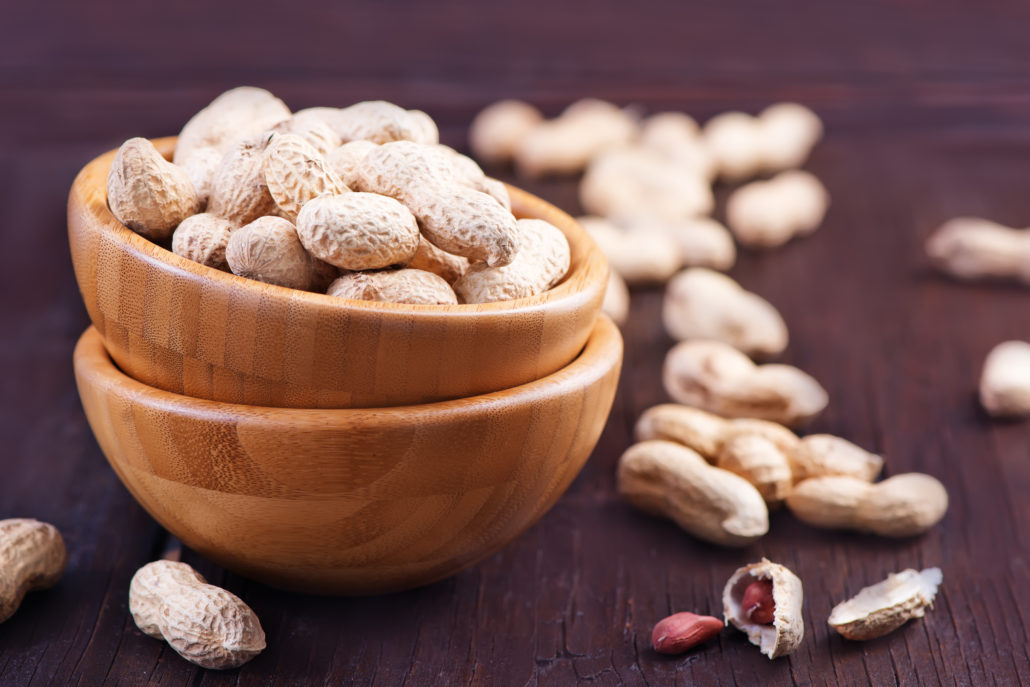 What Is Peanut Butter Powder?
Peanut butter powder is quickly taking the market by storm as an excellent substitute for a healthy protein powder. It has all of the deliciousness of peanut butter, without the sticky mess. Our pure peanut butter powder is made from only one ingredient; peanuts. You heard that right; we only use peanuts! At Crazy Richard's, we believe in giving you the healthiest option and only use nuts in our nut butter. We don't add any extra unhealthy additives like sugar, palm oil, salt, or hydrogenated oil like can be found in most big companies peanut butter powders. Our peanut butter powder is non-GMO, Kosher, gluten-free, and vegan friendly, so you know you are getting the very best for your money. 
Crazy Richard's peanut butter powder is created by pressing the oil out of the roasted & ground up peanut butter to make a powder. This protein-packed powder has 90% less fat and 75% fewer calories than traditional peanut butter since it doesn't contain the oil. That's only 50 calories, 6g of protein, 4g of carbs, and 1.5g of fat per two tablespoons. That makes it low calorie, low fat, low carb, and high in protein! This makes it a perfect and clean substitute for protein shake powder. It sounds like a dream come true, right?
How To Use Peanut Butter Powder
To use pure peanut butter powder in your recipes, mix two tablespoons of peanut butter powder to one tablespoon of the liquid of your choice, like water or milk, to create a paste or sauce. This is not our favorite way to use Pure PB Powder – because we know that a powder replacement is not every going to be truly as awesome as our delicious Creamy Peanut Butter! But, Pure PB Powder is awesome when you use it as a dry peanut butter powder. You can skip the liquid and sprinkle it straight on your food to achieve that nutty peanut butter flavor we all love. Since it is a powder, we don't recommend using peanut butter powder to make PB & Jelly sandwiches. Instead, we recommend using Crazy Richard's Creamy or Crunchy Peanut butter on a sandwich. We promise it is the best all-natural peanut butter, hands down! If you are looking for an excellent and tasty texture neutral option to boost your protein shake or enhance a recipe, our Pure Peanut Butter Powder is the winner, hands down! Peanut butter powder is perfect for taking on the go. Just put some in a ziplock bag, and you are ready to spread it on any snack while you are on the move.
Here are some ideas of how to incorporate powdered peanut butter into your diet:
Blend it into your smoothies! Be sure to add in some almond milk as well to make it even healthier.

Mix and bake it. Swap your traditional flour in any recipe for some of our

pure peanut powder

in your gluten-free baked goods.

Shake the protein powder in your workout shakes. Just add a spoonful or two to your protein shake; it's that easy! If you want a more powerful peanut flavor, add another scoop, or two or three, until it is peanutty enough for you.

Stir it in your regular or Greek yogurt for a protein-filled breakfast.

Sprinkle some peanut butter powder on your cereal, fruit, or oatmeal as a tasty topping.

For a decadent snack, stir some into your hot cocoa, and drink up.

Shake unto some popcorn for a delicious peanut butter taste.
Health Benefits Of Peanut Butter Powder
There are so many health benefits of powdered peanut butter, including:
Improves metabolism and muscle growth: Like with regular peanut butter, its powdered form is full of protein and fiber. The protein and fiber help improve your metabolism and digestion, increase muscle growth, and boost your energy. It is also high in magnesium and potassium, helping your muscles grow stronger, and fights fatigue, headaches, and muscle cramps.
Low calories

: If you are looking for a low-calorie option,

peanut butter powder

is a perfect nutritious option. Since it has fewer fat calories than real peanut butter, it can help you lose weight and feel full at the same time. Two tablespoons of peanut butter powder only contain 50 calories; that's it! The unsaturated fats in the PB powder can also help your body burn more calories, regulate your appetite, and help you lose weight.

Helps heart health: Our peanut butter powder is high in monounsaturated fat, which can help decrease cardiovascular disease risk and reduce inflammation. By eating peanut butter powder, it can lower your risk of suffering from heart issues and hypertension.
Reduces diabetes risk: All-natural peanut butter powder can help balance your glucose levels and blood sugar. This helps regulate your insulin levels, which enables you to be healthier and lowers diabetes risk.
Provides an energy boost

: The fiber, protein, and healthy fats contained in powdered peanut butter give you the energy you need to go about your day. 

Improves brain health: Peanuts are high in antioxidative and anti-inflammatory properties, which reduce oxidative damage to your brain and helps you be healthier. 
Decreases stress hormones: Eating peanut butter powder every day can help reduce stress levels and normalize high cortisol levels. Who doesn't want to be less stressed?
Improves skin health: Peanuts help protect your skin from the damaging effects of free radicals caused by UV exposure. The monosaturated fats in the peanut butter also help maintain your skin's natural glow and radiance.
Helps eye disorders and cognitive decline

: In addition to peanuts being high in protein, fiber, healthy fats, and antioxidants, it is also high in

Vitamin E

. Vitamin E is essential in preventing cancer, eye disorders, heart disease, and cognitive decline.

Lower blood pressure: Peanut butter powder is high in potassium, which helps muscle growth, and is also critical in maintaining heart health and lowering blood pressure.
As you can see, there are plenty of peanut butter powder benefits. With our delicious and healthy peanut butter powder, you and your family will be sure to love everything you use peanut butter powder on. Be sure to stock up on plenty of peanut butter powder, so you can always have some on hand and never run out.
Is Peanut Butter Powder Safe For My Baby Or Dog?
Yes! Our peanut butter powder is perfectly safe to give to your little ones and your pups! For infants, you should slowly introduce peanuts into their diet under a doctor's supervision. Since our healthy peanut butter powder doesn't contain any extra fillers or preservatives, this ensures that our products are clean and pure, making them safe to give to children. The American Academy of Allergy, Asthma, and Immunology recommends that you start giving your child peanut butter only after they have had other solid foods without complication or signs of allergies. It can usually happen around 6 to 8 months of age.
This also makes our peanut butter powder safe for your dog. There is no added sugar, xylitol, erythritol, or added salt that would make it harmful for your beloved pet. By only using the one ingredient of peanuts in our recipe, you can feel confident that you're receiving a premium product that is healthy for you, your children, and your puppies.
How Should I Store Peanut Butter Powder?
Since the peanut butter is a powder, instead of a cream like regular peanut butter, it does not need to be refrigerated. However, storing something in cold temperatures ensures that it lasts longer. Store your peanut butter powder in a cool, dark, dry place. Keeping your peanut butter powder this way helps it stay good for up to 12 months. Store it in your fridge or freezer for even longer and fresher results!
Peanut Butter Powder Recipes
There are plenty of ways to use peanut butter powder in tasty recipes, including:  
Peanut butter muffins or bread.

Pre or post-workout protein shakes to give you the energy you need to get through the day.

Stir some powdered PB into your vanilla yogurt or Greek yogurt for a protein-filled breakfast.

Put in some peanut butter and chocolate chip cookies. 

Use the peanut butter powder to make a peanut sauce to dip in your sushi rolls or for your stir-fry.

Mix in some granola on the go.

Sprinkle some peanut butter powder as a topping for your fruit, cereal, and oatmeal, for a healthy and energy-filled breakfast.

Use as a breading for your chicken or bread crumbs to give them a peanut flavor.

Put a dollop on your hot cocoa with a bit of cinnamon, and you have the perfect fall treat.

Sprinkle a bit on your ice cream to give it a delicious PB flavor.

Use a spoonful of peanut butter powder as a sweetener in your coffee to start your day off on the right foot.
Our pure peanut powder comes in two different options: a 6.5 oz jar, and a 2 lb bag, depending on your family size and needs. Be sure to grab some today, either on our website, Amazon.com or Walmart.com, so the peanut butter lovers in your home can always have some delicious peanut butter powder ready to sprinkle on whatever your heart desired. No matter if you are baking goodies for a bake sale or want some protein in your workout shake, Crazy Richard's peanut butter powder is sure to impress with every bite!