Thank you to Good Day Columbus for having us on their morning Back to School segment today. We discussed delicious and healthy snack options for kids pre and post school. View our morning segment 
here. 
We hope you and your family enjoy these quick and easy recipes!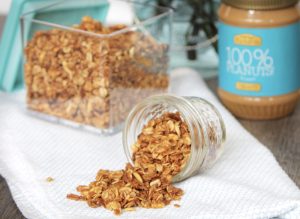 Refined Sugar Free Coconut Granola 
4 cups oats
1 cup slivered almonds
1 cup shredded coconut
3/4 cup honey (maple syrup for vegan)
½ cup coconut oil
1 tsp cinnamon
1/2 cup dark chocolate chips (optional)
Instructions
Preheat oven to 325
Warm honey & coconut oil together and mix in Peanut Butter
Combine all other ingredients in a large bowl
Pour wet mixture over dry ingredients (add dark chocolate chips if desired)
Line pan with parchment paper and spread granola evenly
Bake 25-30 minutes stirring every 10 minutes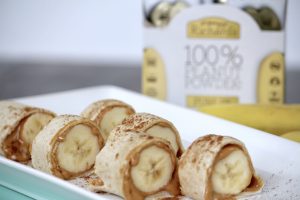 PB Banana Sushi Rolls
3 Tablespoons Crazy Richard's powdered peanut butter & 1 Tablespoon water or milk OR 4 Tablespoons Crazy Richard's Creamy PB
1 whole grain flatbread or whole wheat tortilla
1 medium banana
Instructions
Combine peanut powder with milk or water or just use creamy PB
Spread peanut butter down the middle of the flatbread/tortilla reserving about a teaspoon for later.
Place banana on top of peanut butter and roll up flatbread.
Spread remaining PB on outer edge of flatbread to create a seal.
Slice into pieces resembling a sushi roll and serve.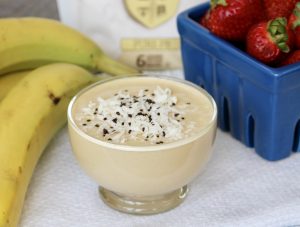 Three Ingredient Fruit Dip
Instructions 
Mix all together and keep refrigerated.
Serve with any variation of fruits and toppings!
***Fun Mix-Ins: cinnamon, vanilla, coconut shavings, cacao nibs or granola. Pictured with unsweetened shredded coconut and dark chocolate chia seeds.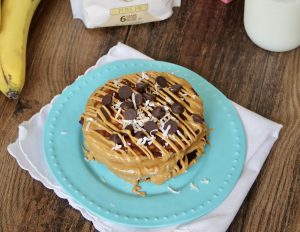 Make Ahead Gluten Free Pancakes
Instructions
Mix wet ingredients and dry ingredients separately and then combine.
Cook on hot griddle or skillet and refrigerate overnight.
Warm up for a quick and easy hot breakfast before school and top with drizzled peanut butter.  
 This recipe is tasty and refined sugar free! Can substitute flax egg, nut milk and maple syrup to make this recipe vegan.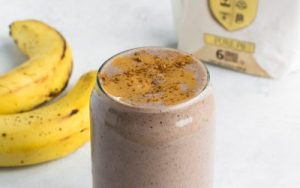 PB-J Power Smoothie 
1.5-2 cups unsweetened almond milk

3 ice cubes

1 frozen banana

1/3 cup frozen strawberries

1 tbsp ground flaxseeds

1/3 avocado

1/4 tsp cinnamon

1 serving vanilla protein (optional)

1/2 frozen zucchini*
Instructions
 Add all ingredients to high-powered blender and blend for 1-2 minutes, or until it reaches a smooth texture.