Hello Peanut Butter Family! We have used up all of the red and brown multi-colored lids and are finally back to our signature gold peanut butter jar lids! Keep an eye out for these beauties on store shelves near you 🙂 But just when we thought things couldn't get any crazier, we decided after all of our recent growth that we needed to expand our manufacturing capabilities and use an additional facility to continue to keep up with all of the demand for Crazy Richard's yummy all-natural PB goodness.
The crazy thing is that this additional facility was using a different FDA approved software system to calculate the Nutrition Fact Panel for the labels on our peanut butter jars. Unfortunately, the numbers came out slightly different than our original labels. Even though the peanut butter INSIDE the jars is still just one ingredient: US Grown Peanuts! We knew this would be confusing, but we didn't want to STOP making peanut butter while we were sorting out the numbers (it's basically all a function of rounding fractions to the nearest whole number!) We once again leaned into our core values and mission at Crazy Richard's and decided to continue to make delicious pb AND work on getting the two software systems to agree on the most accurate numbers. Which we have finally succeeded! YAY!
End Result: the Nutrition Fact Panel (NFP) on the left has been and will continue to be our final NFP going forward. But you might still see some of the NFPs on the right for the next few weeks on store shelves. Rest assured you are getting the same great Crazy Richard's peanut butter that you have always loved!
Because we know that Crazy Richard's customers are some of the brightest and most informed peanut butter lovers out there – we wanted to make sure that every one of you had some additional information about this process. Read the below article written by published author and Registered Dietitian Nutritionist Mary Ellen Phipps from Milk and Honey Nutrition.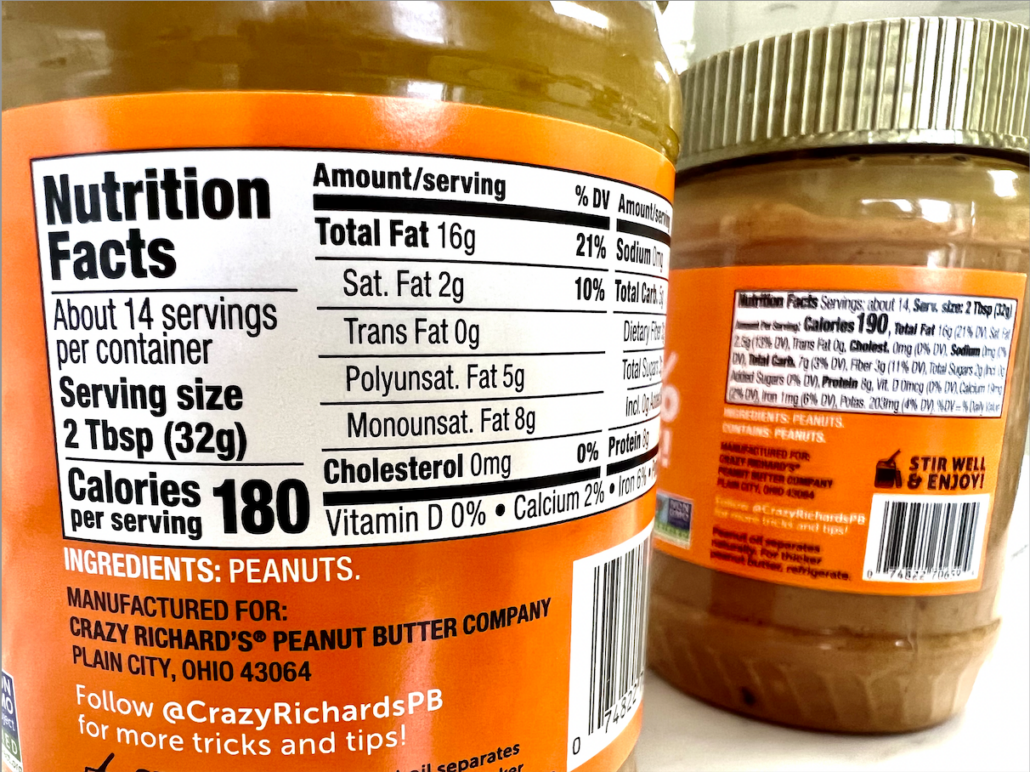 What's going on with our peanut butter nutrition labels?
By Mary Ellen Phipps, MPH, RDN, LD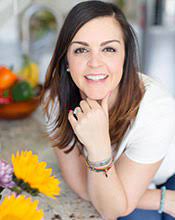 So, you may have noticed the nutrition facts panel on some of our peanut butter jars looks a bit different lately. Here's what's going on and why you don't need to worry at all. Every jar of Crazy Richard's peanut butter is still the exact same peanut butter you know and love!
All Crazy Richard's peanut butter is produced and packaged at a separate facility from our headquarters. (We started out making our own peanut butter in a small factory in Columbus, Ohio but after rapidly growing we switched to a modern, state-of-the-art facility decades ago.) This type of facility that we use, along with a majority of other food companies, is called a co-packer. They follow our recipe and guidelines exactly to produce the silky smooth peanut butter you love.
Most food companies in the United States use a co-packer to produce their products, rather than producing it themselves.
In addition to producing a food product (in our case, delicious PB!), the co-packer is also responsible for calculating and producing the nutrition facts panel for the product.
You might have guessed where this is going…
In recent months, we had to add additional co-packers, as our business has grown.
Now, you may be thinking, "Why would that matter? Shouldn't everything be the same if they're using the exact same recipe?" And, while it would make sense for this to be the case, it's not always.
The United States Food and Drug Administration (FDA) oversees the production of all Nutrition Labels. They have a set of standards and rules for everything from how to calculate the specific nutrient quantities based on our recipe to what we can say on the label.
And, you guessed it… there are a number of different approved ways to calculate the amount of different nutrients in our recipe. And sometimes, they result in different amounts. This is allowed because the FDA allows companies to have a certain margin of error in their calculations. They recognize that being 100% precise all the time just isn't possible.
Co-packers will usually confirm their nutrition estimates by comparing the recipe for the final product to a list of reference foods and methods that they most closely resemble. These reference foods and methods are called SRMs (standard reference materials). They are accurate to within 2-5% for sodium, calcium, potassium, fats, protein and carbohydrates.
Because, co-packers and food producers are allowed up to a 5% margin of leeway in interpretation in their calculations for fat, protein, and carbohydrates, the same exact product produced in two different facilities may have up to a 10% difference between the two nutrition labels for these nutrients.
Our new co-packers we've added use a different FDA approved method than our original co-packer to calculate the amounts of nutrients in our peanut butter recipe… thus, the difference you're now seeing in some of our nutrition labels.
If you want to learn more about the specific science behind how companies are allowed to calculate the amounts that go on nutrition labels, this article is very helpful!
So, while the peanut butter recipe is the exact same, the nutrition labels MAY look a little different depending on where the jar of Crazy Richard's peanut butter you bought was produced:

Still a little confused? Here's some amazing resources and articles that explain how this process works in more detail:
As always, feel free to email us anytime at… [email protected]
Crazy Richard's
Average rating:
0 reviews