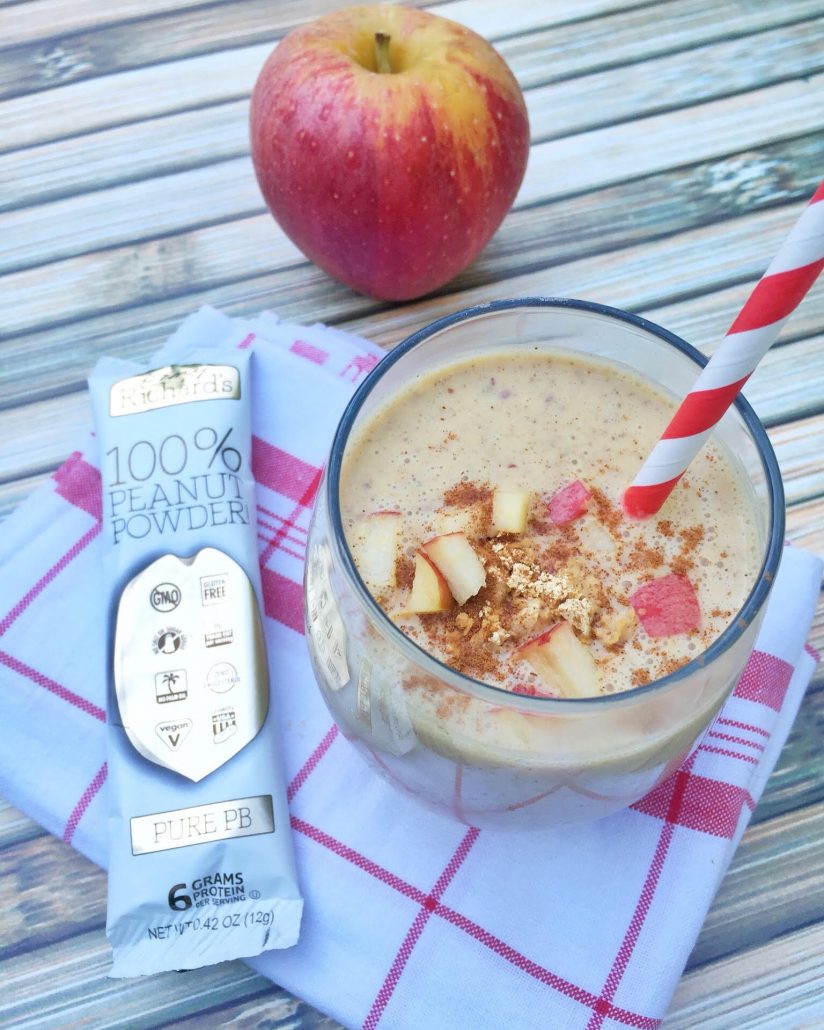 Who doesn't love apples dipped in peanut butter? It's not only delicious but a wholesome, nutritious snack filled with protein, fiber and healthy fats. Now you can enjoy your favorite snack for breakfast in the form of a protein packed smoothie! @crazyrichardspb PurePB is a pure peanut powder made ONLY FROM PEANUTS, no other ingredients like salt or sugar that you don't need. When you press the oil out of peanuts you are left with this awesome, low calorie, protein packed powder to add peanutty flavor to all of your favorite dishes like smoothies, muffins, yogurt, oatmeal, sauces, you name it.
This Apple Peanut Butter Protein Smoothie Recipe WAS THE WINNING ENTRY in Crazy Richard's Clutter Free Powdered PB Smoothie Contest. With fall beginning, I'm loving the apples and cinnamon flavor combo, and this smoothie has no added sugars.
Makes 1 serving- about 2 cups
1/4 cup apple cider
2 Tablespoons unsweetened vanilla almond milk
1/3 cup low fat cottage cheese
1 teaspoon chia seeds
1/4 cup (2 packets) Crazy Richard's PurePB
1 Tablespoon old fashioned oats
1/2 teaspoon cinnamon
Optional- 1/2 teaspoon pumpkin pie spice
1 small-medium very ripe apple like Gala, Fuji, or Honeycrisp (4 ounces)
½-1 cup ice
Add all ingredients to a blender and process until smooth.
Garnish with extra sprinkles of PurePB, cinnamon and tiny chopped apples.
If you like a little more spice, add another ½ teaspoon of pumpkin pie spice
*Hint* If you like a sweeter smoothie or if your apple is not super sweet, you may want to add 1 teaspoon or two of raw honey. This tasty breakfast has only 300 calories but is packed with 23 grams of protein and 10 grams of fiber to help keep you full all morning!! ???
Winning Recipe & Photo by: Lauren Pincus, RD of nutritionstarringyou.com