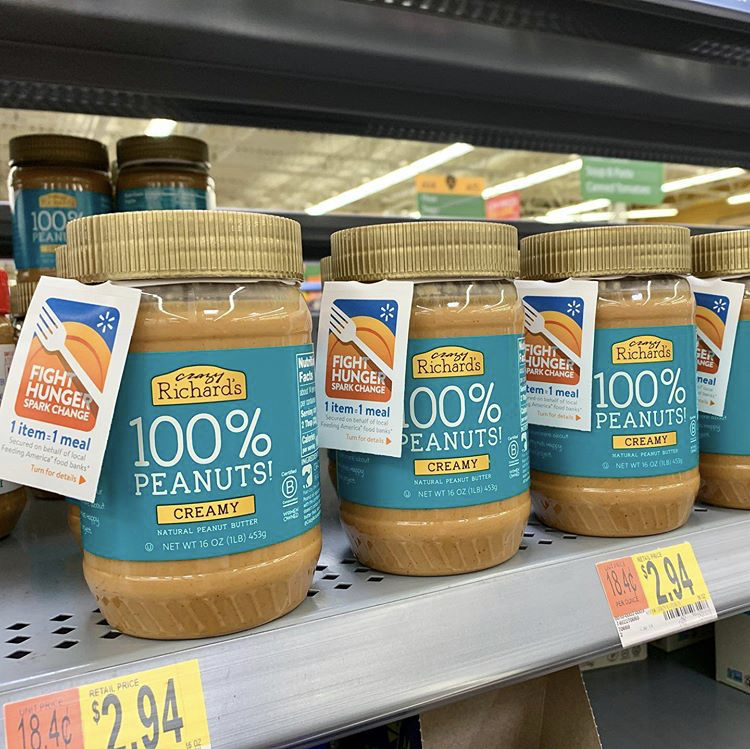 CRAZY RICHARD'S CHOSEN AS ONE OF THE FIRST SMALL BUSINESSES TO JOIN THE FIGHT HUNGER. SPARK CHANGE. CAMPAIGN WITH WALMART AND FEEDING AMERICA™!
This announcement looks very different than it was supposed to. We have always admired the Fight Hunger. Spark Change. program and dreamed of being a part of it. Last year, we decided we needed to STOP dreaming and MAKE it happen. We continually petitioned Walmart to take a chance on us and allow one small business to participate in this year's 2020 program. And Walmart said YES! We were giddy with excitement and dying to share the news as were secretly planning the campaign launch for months. The best part about this campaign is how many EXTRA people in need we would be able to help across the country. Crazy Richard's has a wonderful company culture of giving back and helping others, and we even established the Healthy Kids Happy Future™ project to give us a platform to help us do more of this. By partnering with Walmart and the Fight Hunger. Spark Change. campaign, each jar of Crazy Richard's Peanut Butter sold at Walmart, we were able to join some of the largest brands in the food business and donate a portion of every jar sold to Feeding America™ who was able to take those collective contributions and turn them around and distribute them to food banks across the country!  By partnering with the largest food brands and largest corporation in the world we were able to be a part of a very large impact rather than just our own small company abilities.
So we got to work to make sure we did more than our fair share of the heavy lifting and promotion. We had special stickers made for every jar of peanut butter to proudly announce our involvement. We had planned a celebration at our local food bank partner's HQ – the Mid-Ohio Food Collective, and we were going to have community members, friends and partners from across the country join us! We had commissioned a local artist to help us revive the vegetable gardens outside the MOFC and were planning other hands on service opportunities for the big celebration kick off day.
But instead, only 2 weeks before our much anticipated event, COVID19 happened. And the extra peanut butter with the special stickers we made in advance to prepare for this campaign — were quickly gone. We shipped those jars into Walmart stores immediately, as soon as worried shoppers flooded the stores searching for peanut butter to stock their pantries. Our celebration was canceled and the campaign took a massive turn as all of us in the grocery industry had to shift all priorities to get food to people in need as quickly and safely as possible.
To say I was initially disappointed is an understatement. But my disappointment is far outweighed by how proud I am of my industry. I am proud of the grocery store employees, manufacturers and carriers who have stepped up to the plate and worked hard and overtime, with the goal of keeping the lifeblood of this country going – our food distribution channels. And we are doing it!
In the end, Crazy Richard's was able to donate proceeds from over 150,000 jars of Crazy Richard PB to 200 food banks across the US with Feeding America™. We are grateful we were to be a part of this amazing initiative during such a crucial time in our country.
Thank you to our valued customers for the continued support and love, always.
Sincerely, Kimmi Wernli