Our COVID-19 Response
To our Crazy Richard's Friends and Family,
We understand Peanut Butter is one of the most recommended staples in times of emergency and our products are in high demand and selling out quickly. Our mission has never been more relevant than it is today. Crazy Richard's will do whatever it takes to provide access to our high-quality products at an affordable price, to as many people as possible.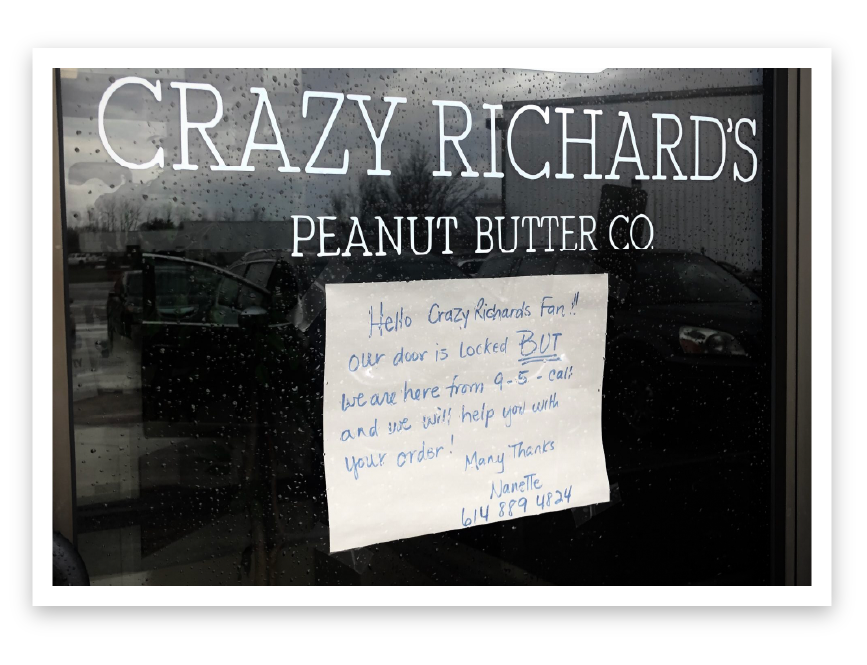 ---
Here are some important updates:
1.
Our amazing staff family is working overtime and on overdrive to fulfill the unprecedented orders that are pouring in.
Our goal is to keep Crazy Richard's Peanut Butter in stock on as many grocery store shelves and into your homes as possible. We have increased our shipping supplies and have coordinated with additional shipping services to use larger trucks. Most importantly, please note that WE HAVE NOT INCREASED OUR PRICES.
2.
As a family business, the safety of our employees and their families is our first priority.
As a family business, the safety of our employees and their families is our first priority. We have our main HQ on lockdown, only allowing a select few family members into the facility to physically fulfill orders while others work from home. Our office is closed to outside visitors and have implemented additional sanitary precautions on top of our already strict protocols. However, our Customer Service Director and office cheermeister Nanette is so kind she doesn't want to turn anyone away in need, so even though we have the front door locked there is a note to call Nanette if someone needs food and she will bring it to the door.
3.
We are actively working with our retail partners to support Food Banks across the United States.
Click below to find out how you can help support our initiative with Feeding America.

Learn More
4.
Continued recognition and support of First Responders.
We are finding ways to recognize and reward the efforts of our "first responders" especially providing support, love and gratitude to those workers on the front lines in the grocery stores and across the entire food supply chain. We know without a doubt that they are essential to maintaining a stable food supply and are working hard to keep the grocery stores and our homes stocked with the foods and supplies we both love and need. 

5.
Local Support: We are trying to do our part to help out in our own community.
Locally, in our hometown of Columbus, Ohio, Kimmi immediately partnered with several other Columbus food businesses to donate to the largest food bank in the area, the Mid-Ohio Food Collective, which serves as a feeder hub for all of the other food banks across 20 local counties.
6.
If our peanut butter is out of stock.
If our peanut butter is out of stock. Don't worry and keep checking back! We are working tirelessly to get product in your hands. Also, don't forget to try Crazy Richard's Almond Butter or 2 lb Pure Peanut Powder Bag as another alternative. We can assure you that you won't be sorry! You may just have found yourself a new favorite nut butter 🙂
Try Our Almond Butter Try Our Pure Peanut Powder
7.
If you did get your hands on a few extra jars of Crazy Richard's Peanut Butter.
Here are some new and easy ways to make sure you are stirring, storing and enjoying our all-natural nut butters in the best way 🙂
8.
We are extremely mindful of those in need at this time and are evaluating the best ways in which we can help.
If you or someone you know is in great need, please feel free to reach out to us and we would be happy to see how we can be of assistance. For any other questions or concerns, please email [email protected] or call us at 614.889.4824 and we will do our best to respond to everyone as quickly as we can.
With virtual hugs and high fives,
The Crazy Richard's Team