Natural Peanut Butter is such a versatile, yummy and fun topping to add to just about any food! Here are a few tips to make sure that your PB drizzle is looking on point for all of your food photography needs:
Start with the right tools.
You must use natural peanut butter to make the perfect peanut butter drizzle. Traditional peanut butter is filled with added oils called "stabilizers" which are intended to prevent the natural oily or runny consistency in peanut butter from occurring. These stabilizers are ingredients such as hydrogenated oil, palm oil, vegetable oil or coconut oil. Additionally, the peanuts must be ground into extremely fine peanut butter. Crunchy PB or peanut butter that has a gritty consistency will not drizzle as smoothly. Fortunately, Crazy Richard's all-natural peanut butter has ZERO added ingredients, no stabilizers at all, and is always ground up twice making our creamy PB extra silky smooth.
A hand mixer with just one blender attachment works best to get the perfect ratio of PB mixing. Make sure to get a firm grip on the jar of PB, press the mixer attachment blade all the way into the bottom of the PB jar and turn the mixer on the lowest speed possible at first. Let it work around the jar for a few seconds and then speed it up. Total mix time depends on how fresh your jar of natural PB is – but approximately plan on 30-60 seconds. Of course a knife, spoon or stir stick work great to mix up a jar of natural peanut butter when you are making a sandwich, but for perfect PB drizzling you ideally should use an electric mixer. A stand mixer would work just great as well, however that would be one more bowl to wash and ain't nobody got time for more dirty dishes! Unless you liked the mixer blades clean with your tongue…which I'm not saying is a bad thing 🙂
This PB Squeeze Bottle is great because it has a wide mouth opening allowing for easy pouring into the bottle and when you are ready to clean it out the wide mouth opening allows for a dish washing brush to fit down inside for easy scrubbing. The lid twists securely onto the top, the walls are thick and sturdy, and the spout opening is the perfect size for a PB flow. I have tried a lot of different versions but I feel that this one is the ideal squeeze bottle shape.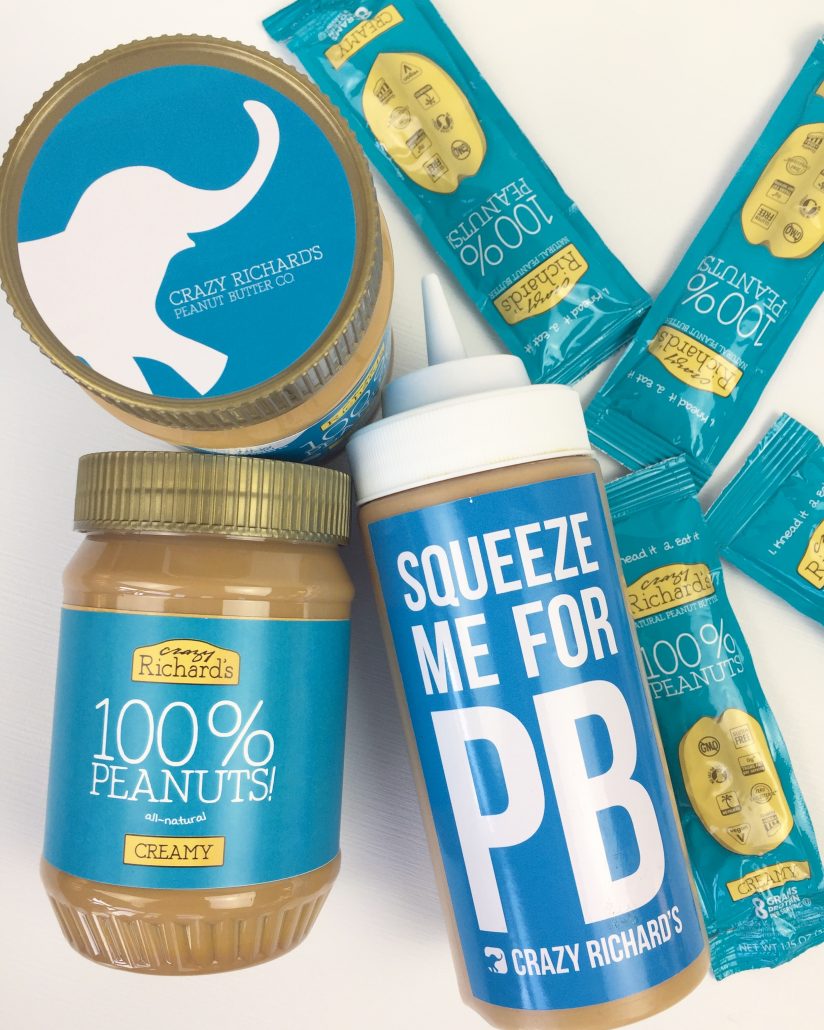 Additional Tips:
Store this PB Squeeze Bottle in your pantry, not in your fridge.
Use it every day. No really, use it every day. Or at least flip it upside down a few times a week to keep the PB loose inside.
If you forget and leave your PB Squeeze Bottle in your cupboard for a few weeks and the oil separates to the top – then you can try putting your mixer blade directly into the squeeze jar!
Mix up a few jars of PB at a time! I always mix about 4 jars up at one time and keep them in my pantry for easy refilling 🙂
Get your kids involved! Kids LOVE to help in the kitchen and this PB Squeeze Bottle gives children the power to add wholesome plant protein to just about any food they want!
If you are mixing up an old jar of PB that is really separated (or hard) first start with a knife around the edges to loosen it up before sticking the blade attachment into the jar and don't forget to hold onto the jar of PB tightly before turning on the mixer 🙂
Happy Drizzling!!
Xoxox Kimmi