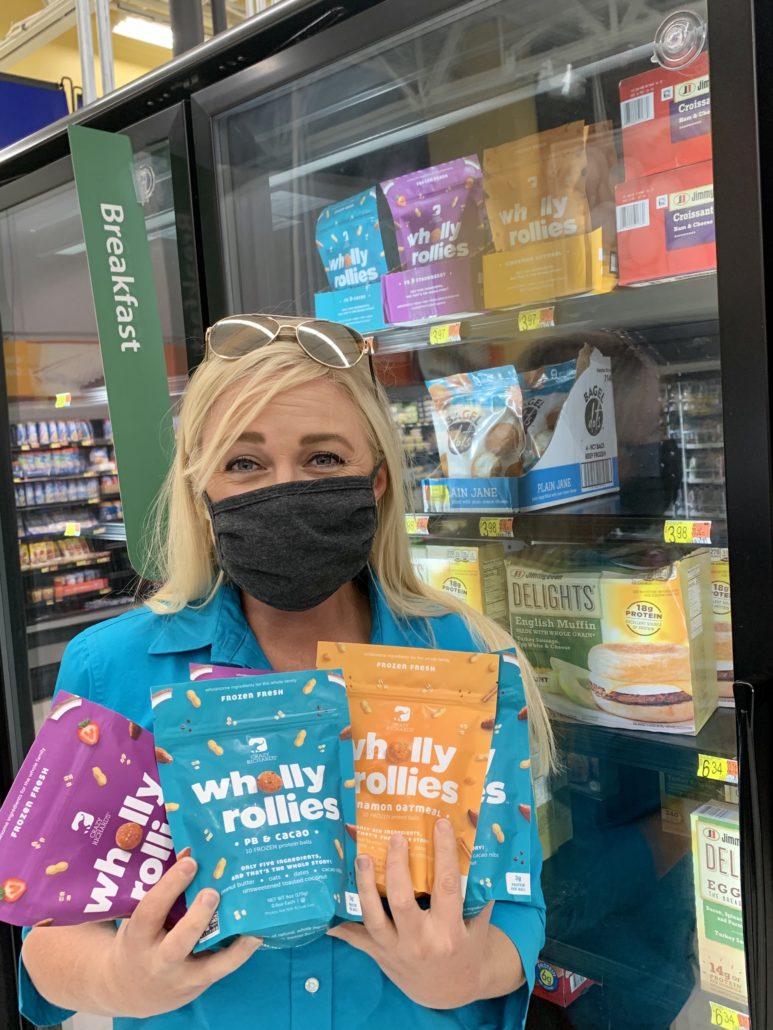 Q : What is a #FrozenShelfie?
A : It is simply a selfie photo, standing in front of a freezer shelf!
Q : How do I enter Crazy Richard's #FrozenShelfie Contest?
A :
Take a "selfie" holding any flavor of Crazy Richard's Wholly Rollies in front of a freezer (either in a store or at home)

Post your picture on one of your personal social media account feeds (every platform gives you an additional entry!)

Tag @crazyrichardspb AND use the hashtag #FrozenShelfie
Q : What if my social media profile is private? Will my post be entered into the #FrozenShelfie contest?
A : Unfortunately, no. If we can not see your post – it will not be entered. Please make sure to post on social media channels which are set to a public profile.
Q : What if I am uncomfortable/unable to go into a grocery store to take a #FrozenShelfie?
A : You can take one at home in front of your own freezer! You can order Wholly Rollies through multiple grocery pick up or delivery platforms – check out the store locator on this page for help.
Q : How do I earn multiple entries?
A : Every post on a social media feed counts as one entry! If you want to earn more entries, you can post on multiple different social media platforms – and/or you can post more than one time on a single platform! Story posts are wonderful (and we are grateful for each shoutout!) however we have a harder time capturing these as entries for this contest and therefore a feed post is required.

Eligibility Requirements & Additional Information:
Open to US residents in the continental United States of America, who are 18+ years of age by the time this contest opens.
Contest opens on 11/2/20 and concludes on 11/16/20. ***UPDATE! Contest extended until 11/30/20***
This contest is sponsored by the Crazy Richard's Peanut Butter Company 7920-B Corporate Blvd. Plain City, OH 43064
One winner will receive a year's supply of Crazy Richard's peanut butter which is the equivalent of 2 jars of peanut butter per month for 1 calendar year, totaling 24 jars of peanut butter with a retail value over $100 not including the shipping or deliver fee, the odds of winning based upon number of participants.
The winner will be able to choose between Crazy Richard's Creamy or Crunchy Peanut Butter or a combination of both options.
Peanut Butter prize will be sent to winner either all at one time or broken into 2 shipments during 1 calendar year, depending upon winners preference.
Selection will be made by a selection committee of employees at Crazy Richard's Peanut Butter Co by end of November 2020.
Winner will be announced on this post and on Crazy Richard's social media platforms on or before December 1, 2020.
"No purchase necessary." You can always draw a picture of Wholly Rollies at use that in a photo.