Hey Mamas and Papas,
As most you know, the common practice has been to introduce heavy allergen foods to children around age one or even later. Recently, doctors and scientists have started to change their opinions on the earliest and safest age for introducing specifically peanut protein to your infants. This change in theory is based upon observation and many research trials that have proven that the earlier you introduce peanuts to your babies the smaller the chance of them developing a peanut allergy. Now, physicians are suggesting that parents should start introducing peanut products into their children's diet at 4-6 months of age. Recently, we teamed up with one of our favorite chefs and food bloggers, Dini Klein of @dinidelivers, to create two kid friendly recipes that incorporate our all natural, one ingredient, Crazy Richard's Peanut Butter, the tastiest and healthiest peanut butter for your kiddies.
PB GRANOLA BARS RECIPE & VIDEO
Ingredients:
2/3 cup coconut
1 cup oats
½ cup Crazy Richard's Creamy Peanut Butter
½ cup ground flax meal
1/3 cup honey
1 tablespoon chia seeds
½ cup chocolate chips (mini is ideal)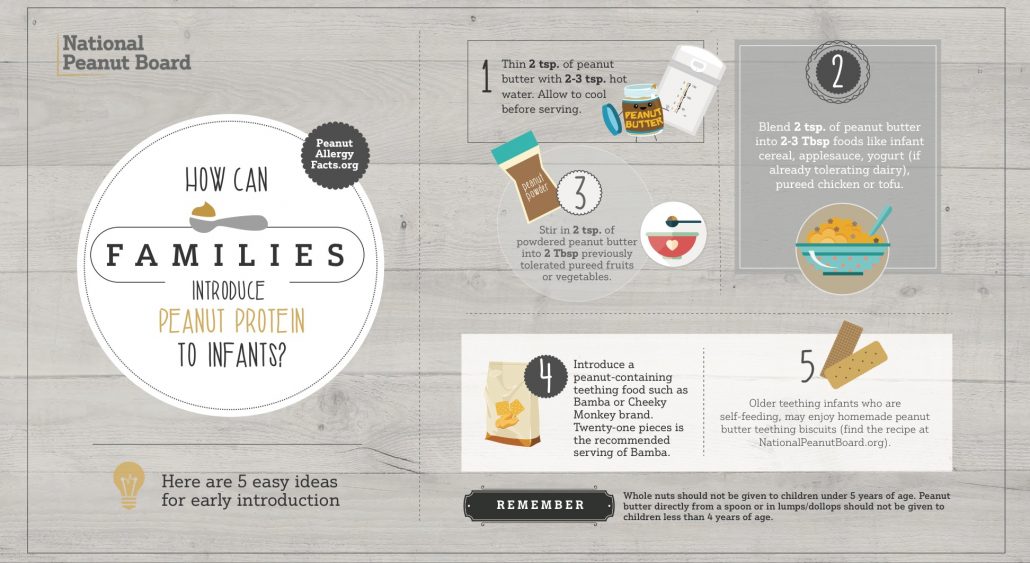 For more information please read these articles that discuss the early introduction of peanuts to infants.
Leap Study- A clinical trial investigating how to best prevent Peanut Allergy
Washington Post – New NIH guidelines on infants and peanuts may contradict everything you've heard before
Yahoo- New advice: Peanuts in baby's diet can prevent scary allergy
NPR- New Guidelines Tell Parents When To Introduce Babies To Peanut Products
US News- Peanut-Based Foods Help Prevent Allergies
NYT- Feed Your Kids Peanuts, Early and Often, New Guidelines Urge
CNN- New peanut allergy prevention guidelines start in infancy
AP- New advice: Peanuts in baby's diet can prevent scary allergy
Recipe and Video by: Dini Klein of dinidelivers.com
Check out another great video and recipe by Dini HERE!