How To Introduce Peanuts to Babies to Prevent Allergies
"Almost as soon as I learned I was pregnant, I began thinking about how I was going to feed my child. As a Registered Dietitian and healthy living blogger, a lot of my days revolve around food!
Would he be a good eater. Would he be as picky as I was as a child? Would he have food allergies? Would he ever eat vegetables?
Turns out my son loves to eat! He's been in the 99th percentile for height and weight ever since he was born and it has always amazed me just how much food he can consume in a day.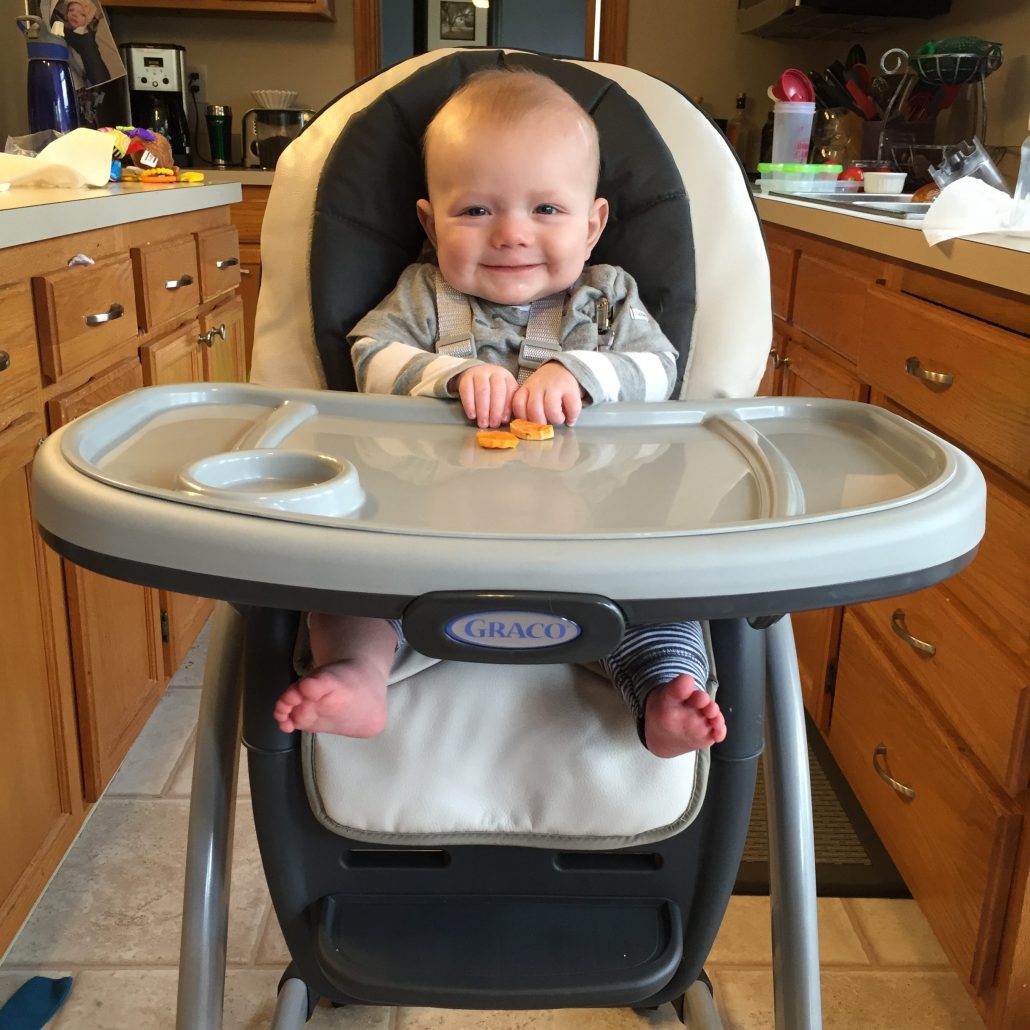 While researching different feeding strategies for infants, I was intrigued by the idea of baby led weaning. As soon as he was ready for solid foods, I embarked on a (slightly modified) baby led weaning journey with him. It was so much fun watching him taste and explore new foods and I can't wait to do it again soon with my daughter.
For years it was recommended that parents wait until at least a year to introduce some of the top 8 allergens, but when we started our journey, there was a growing amount of research out there encouraging an earlier introduction.
I started working my way through the top 8 allergens with my son when he was 6 months old and luckily we've yet to find any foods he is allergic to. I plan to take the same approach with my daughter.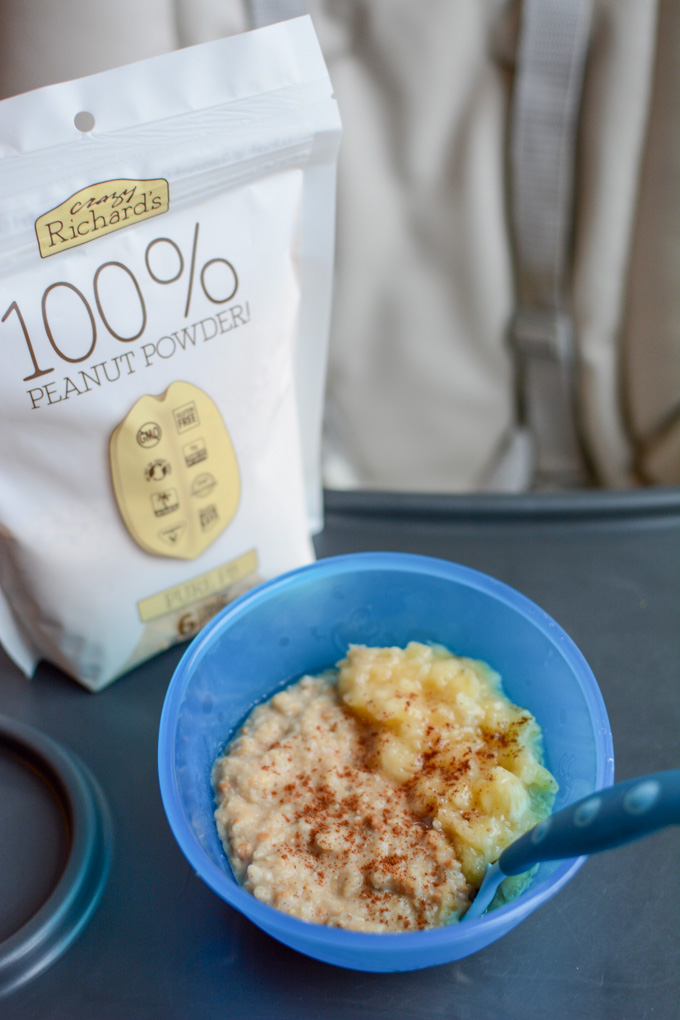 New research was recently released by the National Institute of Allergy and Infectious Diseases indicating that early introduction (as early as 4 months of age) of peanut-containing foods could help prevent peanut allergies from developing in infants.
Peanut allergies have become a growing problem in recent years and the hope is that people will utilize the new guidelines and that the prevalence of peanut allergies will start to decrease.
There are many different ways peanut-containing foods can be introduced to infants. Peanut butter and peanut powder are both great options. I'm fairly selective when it comes to choosing what brands to feed my family. Crazy Richard's is a top choice of mine because their peanut butter and peanut powder are made with just one ingredient – peanuts. This makes it easy for me to choose them over other similar products that include other unnecessary ingredients.
If you're ready to introduce peanut-containing foods to your child, here are some simple suggestions:
Mix a small amount of powdered peanut butter with formula or breast milk and pour into a bottle.  I never did this but it would be a great option for babies who are classified as being at high risk for a peanut allergy and are being encouraged to try peanut-containing foods as early as 4 months old)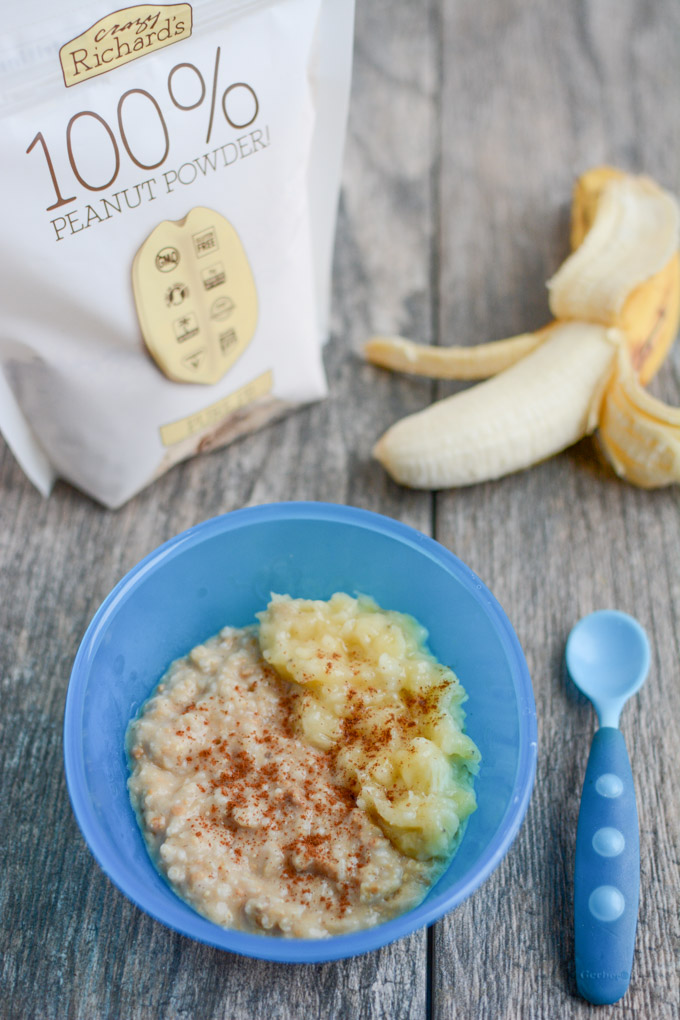 Make some oat cereal and stir in a teaspoon or two of peanut butter. This is how I introduced it to my son.

Cut sweet potato into fries and roast until soft. Mix peanut butter with a little bit of water to thin it out.  Let baby dip the sweet potato fries into peanut butter and eat. This is great for practicing coordination!

Cut a banana into chunks. Warm peanut butter until it's easy to stir. Dip banana slices in peanut butter, place on a baking sheet and freeze. Place in a mesh pouch and let baby suck on it.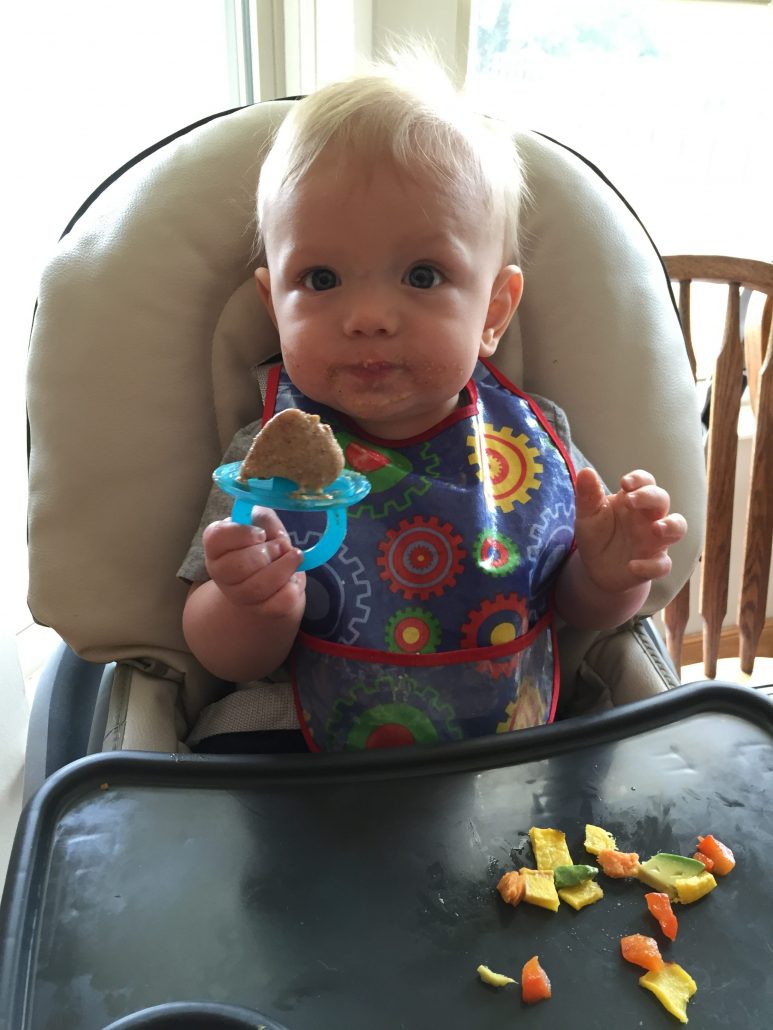 In a small bowl, mash a large cooked sweet potato, a jar of baby food prunes and 2 Tablespoons of peanut butter.  Spoon into small popsicle molds and freeze. These were a favorite for both of us! Fun to eat and great for when teeth start coming in!

Mix applesauce or other pureed fruit with powdered peanut butter and serve with a spoon. A great way to add a little protein!
In all cases, familiarize yourself with signs of an allergic reaction, watch children closely and seek medical attention if needed.
Peanut butter is such a great source of healthy fats, which are important for infant brain development and helping with satiety. Having a kiddo with an appetite as big as mine did, I was constantly looking for ways to add healthy fats to his diet to help him stay full for longer periods of time. Peanut butter was, and continues to be, one of his favorite foods!"
Lindsay Livingston, RD
The Lean Green Bean (www.theleangreenbean.com)