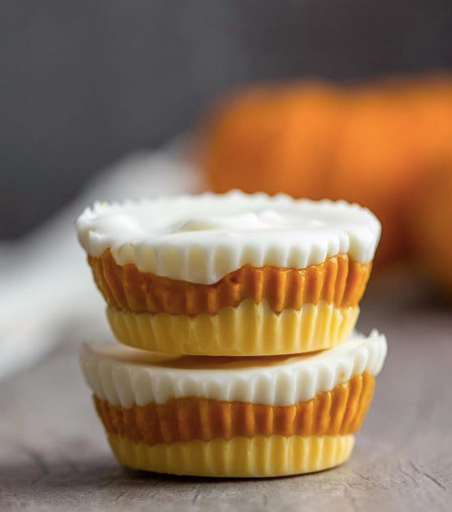 Vegan White Chocolate Pumpkin PB Cups
This recipe is pretty straight-forward without too much fuss for such a fun, candy corn colored result!
Ingredients:
1 cup vegan white chocolate chips
1/2 cup pumpkin purée
3/4 cup Crazy Richard's Creamy Peanut Butter
Maple syrup to taste
Yellow Layer:
1/4 cup water
1/2 tsp turmeric
Boil the water and turmeric for 5 minutes. Let it cool completely and keep in the fridge in a sealed container. Make yellow layer by combining water and turmeric.
Melt 1/2 cup of the white chocolate chips. Mix in 1 tsp of the yellow dye. In a cupcake pan (lined) spoon the yellow chocolate creating your first layer (the yellow layer). Fill 6 cups. Let it set in the freezer. In the meantime, combine the pumpkin, peanut butter and sweetener.
When chilled, remove your pan and spoon your pumpkin layer on top (or the orange layer). Chill. When set, melt the rest of the white chocolate and spoon on top creating your final layer – or the white layer. Let set in freezer. When ready to eat, let it soften before consuming for best texture.
Recipe and Photo by: Marissa Rea of @forkmeetsfood