Nancy Trent/Pamela Wadler
Trent & Company, Inc.
594 Broadway – Suite 901
New York, NY 10012
212-966-0024
[email protected]
FOR IMMEDIATE RELEASE
CRAZY RICHARD'S 'WHOLLY ROLLIES' WINS BEST NEW FROZEN PRODUCT NEXTY AWARD AT NATURAL PRODUCTS EXPO
Award Winning New Product Launched in Regional Markets before Rolling out Nationally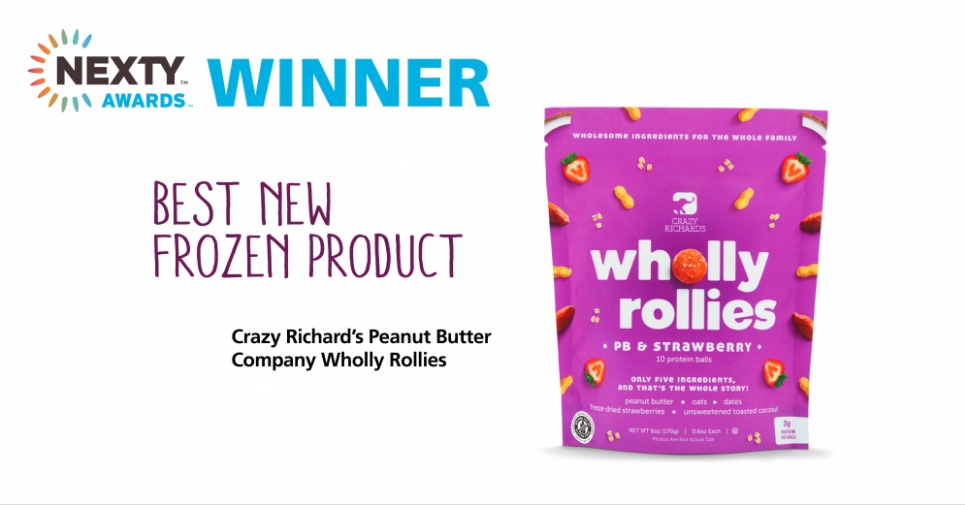 DUBLIN, OHIO (2019) – Crazy Richard's® Peanut Butter Company's new frozen snack line, Wholly Rollies™ – has won the Best New Frozen Product Award at the Natural Products Expo East event that took place in Baltimore from September 11-14, 2019.
Crazy Richard's Wholly Rollies was selected as Best New Frozen Product by a national panel of natural products industry experts from more than 400 entries across 22 awards categories. Winners were announced and presented with their awards on September 12, 2019 at Natural Products Expo East in Baltimore, MD.
The Crazy Richard's team partnered with the National Peanut Board to innovate and create a new frozen fresh peanut butter snack that would appeal to the masses.
"We are thrilled for Wholly Rollies to be awarded the first NEXTY Award for Crazy Richard's. It speaks to the high quality of our products and the dedication of our teams that we would be recognized out of so many deserving brands," says Kimmi Wernli, President and Owner of Crazy Richard's Peanut Butter Company. "We also view this as a win for the entire natural foods industry.  We believe Wholly Rollies are for everyone and will help break down the invisible barrier between natural food fans and general consumers.  We are excited for the roll-out of Wholly Rollies which will be supported by our new comedy based "For (almost) All Moms" ad campaign and we are so proud to have won this award as we ready the national launch of the product."
With women accounting for more than 90% of grocery household decisions, Crazy Richard's is developing a new campaign targeting these shoppers to support the launch, celebrating that ALL moms love healthy snacks for their children.  The campaign will launch later this year. Wholly Rollies are being launched in Harmon's stores in Utah and ACME Markets in the northeast metro areas, before rolling out nationally. 
Wholly Rollies will be sold in packages of ten, in three delicious flavors, made with only five or six ingredients:
PB & CACAO – Peanut Butter, Oats, Dates, Cacao Nibs, Unsweetened
Toasted Coconut
PB & STRAWBERRY – Peanut Butter, Oats, Dates, Freeze-Dried
Strawberries, Unsweetened Toasted Coconut
CINNAMON OATMEAL – Peanut Butter, Oats, Dates, Golden Raisins,
Flax, Organic Cinnamon
About Crazy Richard's. Crazy Richard's is more than a peanut butter company. We care! We care about having wholesome ingredients, the environment, using sustainable practices, our employees and our customers. Our purpose is to provide affordable and accessible premium products and to continually give and serve those in need through our Healthy Kids Happy Future project. By being honest in our ingredient lists, having fair pricing & being transparent in our marketing – we want to help make life a little less crazy.
Crazy Richard's is sold online at crazyrichards.com and in major grocery store chains across the U.S. including ACME Markets, Kroger Banners, Walmart, Meijer, Publix, Whole Foods, Giant, Safeway and Giant Eagle.
About the NEXTY Awards. The NEXTY Awards are presented by the New Hope Network to recognize the most progressive, innovative, inspiring and trustworthy products in the natural products industry.
# # #
EDITOR'S NOTE: For more information about Crazy Richard's and to arrange to speak with the Owner, please contact Nancy Trent or Pamela Wadler at (212) 966-0024 or [email protected].