In just a few short weeks, the Crazy Richard's Peanut Butter Company will be officially rolling out it's new community giveback initiative – the Healthy Kids Happy Future program. But before we could make a large, unsupported claim that we intend to dedicate our time, money and peanut butter to noble causes which support children's health, we thought we needed to actually DO something about it first. Which is why we have partnered with the
Kids' Food Basket
and 5 local bloggers to officially kick it off!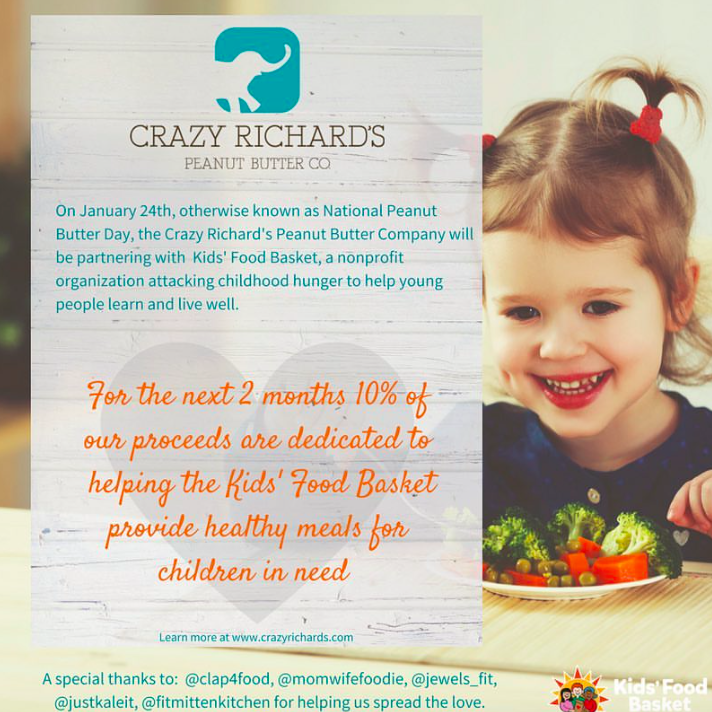 We have always donated our excess peanut butter and products to local food banks and charities and families in need throughout the 20 plus years that my family has owned our PB company. Since I have taken over our company the first of this year, I have felt an overwhelming sense of responsibility to make sure that those around me are taken care of. Maybe it is the fact that I am the first female president/owner of one of the oldest natural foods companies in the nation, or maybe it is because I myself am a mother of four children, or maybe it is because my eyes have been opened to the very real and astounding fact that there are children and families in need in my very own neighborhood. I know that we have exceptionally wonderful and nutritious products which are both filling and missing from many of the daily diets in children in need. In fact, peanut butter is the number one most requested item in food banks across the country! Knowing that our peanut butter is free from added and unnecessary sugars, salts, hydrogenated oils, palm oils or other fillers helped me realize how incredibly blessed our company is to have the ability to provide such a CLEAN food item to hungry children!
Over the past 2 months we have already donated cases of peanut butter throughout our local community in Columbus, Ohio and beyond. We started with a community night event in which guest star
Jasmine Schmalhaus
of
Jazzy Cookies
came to Crazy Richard's new headquarters in Plain City, Ohio and taught a cooking class to 25 women about how to easily replace traditional baking items with a healthier version. Each of the participants was offered to leave the event with a case of Crazy Richard's PB to "Pay It Forward" to someone or some organization of their choosing who was "in need." The feelings of that night filled my heart with such joy I thought my heart my burst. I knew that was the beginning of something much larger than just Crazy Richard's.
Not too long afterwards, my family and a few of our other employees spent a Saturday delivering 1,440 jars of Crazy Richard's peanut butter to Sufficient Grace, a Columbus organization that supplies Sack Suppers to school children in need. We delivered the jars of PB and then helped assemble sacks for hundreds of children. That same evening 300 of Crazy Richard's PB jars were passed out as items at an auction in downtown Columbus raising money for the Make It Fit Foundation to help increase efforts in autism awareness. Blessings in a Backpack has also received Crazy Richard's PB to send home to children in a different school district who depend on food donations in order to have meals on the weekends when they are not in school. In honor of Veteran's Day we recently sent over 500 jars of Peanut Butter to an organization who will deliver Care Packs to US Soldiers currently serving in Mosul and other parts of Iraq. The Plain City Food Pantry received a donation of Peanut Butter last week and next week we have 3 full palettes of peanut butter scheduled to be shipped to an orphanage completely demolished by Hurricane Matthew in Haiti. And a few nights ago I dropped off a large donation of PB to the Ronald McDonald House in downtown Columbus, the largest Ronald McDonald House in the world.
We have identified another wonderful organization which helps empower communities to attack childhood hunger – the Kids' Food Basket in Western Michigan. This organization has 3 different locations and helps feed children all over the Grand Rapids area. We feel extremely blessed to have partnered with 5 wonderful Michigan bloggers to help raise awareness and funds for the Kids' Food Basket. And we are asking for your help!
2. In addition, Crazy Richard's Peanut Butter Company has committed to dedicated 10% of all proceeds for the next 2 months to the Kids' Food Basket. Our employees and families along with these 5 bloggers and families, will be delivering the accrued amount of PB to the 3 different KFB locations on January 24th – National Peanut Butter Day! If you purchase any Crazy Richard's or Krema PB product between now and Jan 24, you will be supporting the KFB regardless of if you shop in store, on Amazon, or on the
cr.tgiwebsite.com
website! Follow each blogger to find out where they will be on National Peanut Butter Day:
3. If you are unable to donate to the Kid's Food Basket or purchase Crazy Richard's or Krema PB products during this time frame, you can sign up to volunteer at one of the 3 KFB locations in Western Michigan or find a similar organization in your own community 🙂 Crazy Richard's PB and Event Partners will be at the following KFB locations and times on January 24, 2017:
Holland Location:
1:00 – 2:00 pm
East Grand Rapids Location:
3:30 – 4:30 pm
Muskegon Location:
5:30 – 6:30 pm
If you would like to join us for one of these hour long service sessions, please email us at info@crazyrichards.com with the subject line: Kids' Food Basket Volunteer and specify which location you would like to join us at and how many volunteers you will be bringing. We will do our best to accommodate all volunteers but as space is somewhat limited, it will be on a first to respond basis.